Japanese paper WASHI was registered by UNESCO Intangible cultural heritage.
Town of Echizen Washi paper
The area making ECHIZEN WASHI paper is called "GOKA-CHIKU" consisting 5 towns of OTAKI-CHO, IWAMOTO-CHO, FURO-CHO, SHINZAIKE-CHO and SADATOMO-CHO.
The location is a center part of Japan but eastern area in Echizen city, Fukui Prefecture which has Echizen Chuo montains in east south area and also this area is a rural lnadscape in west area. The weather is high temperature and high humidity in summer, and have a snowfall in winter season.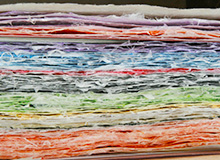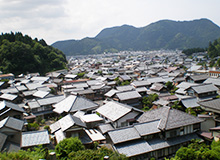 History of ECHIZEN WASHI paper
The Nan-Etsu basin is a historical area where there are many Japanese old poetries written in Manyoshu and industrialized in Japanese paper, weavings, lacquer wares, steel manufacturings and ceramic wares. Since 1,500 years ago, when Emperor Keitai lived in Echizen as Prince Ohto, a beautiful princess descended upon a village on the Okamoto River and tought the people there how to make paper. This princess, Kawakami-gozen, turned out to be the goddess of paper, and with her visit she founded Echizen's washi industry. People built Okamoto shrine to dedicate her and have been carrying on the tradition of paper manufacturing.
TAIKAN YOKOYAMA, have favored Echizen papers, who was well known throughout the country. Featuring a dlicate texture and a wide variety, the paper made in Imadate has no equal in its variety among other papers produced in Japan.
About Washi paper
The culture of paper was introduced from China and completed in Japan. There are almost 2 method to make paper which is called "TAME-SUKI" and "NAFASHI-SUKI"

Tame-suki is a method in which fibers are scooped up from paper material solution into a "SU" or mould and still be used for name card, diploma and post card at present.
Nagashi-suki is a method that the pulpy water scooped into the screen is flowed across the vat and foam the complex wavy pattern until a thickness will be expected by repeated its method. A fine Japanese paper can be made from fibers taken from the bark of a clove like bush called Ganpi-shi, Torinoko-shi, Komagami, Fusuma-shi, Hosho, Gasen-shi and etc.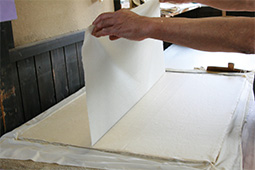 Though the techniques of making paper, Washi paper gives beauty and warmth to everybody still in production now.
Hosho

The original purpose of his paper was for government authorities to write the oral commands of the Shogun in his name for him to sign and to affix his official seal. It currently remains in use as wood-block print paper and certificates.
Gasen-shi

Originally a calligraphy writing and ink drawing paper imported from China during the Edo period (1603 - 1867). It is used for SHO, Japanese painting and regular printing.
Torinoko

Torinoko literally means "child of the bird or egg" and it must have been derived from the unbleached color of the paper that resembled the color of a light yellow bird egg. It is used for stationery and cards, art printing, sliding panel paper, and semi-official documents.
Komagami

Originally, a paper often is used for wrapping. It was decorated with a pretty design. The scope of application gradually developed from a small sized sheet to such large sized paper as panel paper with patterns. It is used for cards, envelopes, writing paper and wrapping paper.
Kyoku-shi

In literal, it is a bureau paper. A thick mitsumata paper, smooth, it is strongly pliant with sharp reproduction printability. It is used for bank checks, greeting cards, stock certificates and business cards.
Matters required in handling

No Fire. Fireproofing is not done.
Paper will be tear or rip if treated roughly.
Please prevent from extreme moisture and dried place, and also please don't leave around an air conditioner.
Please prevent from direct lay of sun and ultraviolet rays. Discoloration and deterioration may occur.

Haruo Yanase Echizen Washi Figure: Mr. Haruo Yanase as a traditional craftsman
| | |
| --- | --- |
| 1955 | borned 25th December at Otaki-machi, Echizen city, Fukui prefecture |
| 1978 | Took over his father's business |
| 1980 | Assumed the president |
| 2006 | Approved a Traditional Asset of Japanese crafts |
Atelier
In 1950, the atelier was reformed and moved the place at present.
The factory was built for manufacturing the Japanese bills after World War II . This section was called Shoshi division and most Echizen Washi craftsmen worked at this factory.
At the golden age of a period of highly growth of Japan, there used to be more than 70 craftsmen worked but the number of craftsmen decreased with hand made then after machine making paper was installed. Fusuma paper is now the main production but still making paper even a small quantity.
Images of his works
Introduction of his crafts
Proposal Usage of WASHI by Illustration

Page Top