Kyoto is a city in the central part of the island of Honshu, Japan. It has a population close to 1.5 million. Formerly the imperial capital of Japan, it is now the capital of Kyoto Prefecture, as well as a major part of the Osaka-Kobe-Kyoto metropolitan area. Kyoto is one of the few Japanese cities that still have an abundance of prewar buildings such as the traditional townhouses know as Machiya. However, modernization is continually breaking down the traditional Kyoto in favor of newer architecture, such as the Kyoto Station complex.
Kyoto became a city designated by government ordinance on 1st September, 1956. Currently Kyoto hosted the conference that resulted in the protocol on greenhouse gas emissions that bears the city's name.
Although ravaged by wars, fires, and earthquakes during its 11th centuries as the imperial capital, Kyoto was spared from the firebombing of World War II. With its 2000 Buddhist temples and Shinto Shrines, as well as places, gardens and architecture intact, it is one of the best preserved cities in Japan. Among the most famous temples in Japan are Kyomizu-dera, a magnificent wooden temple supported by pillars off the slope of a mountain, Kinkaku-ji, the Temple of the Golden Pavilion, Ginkaku-ji, the Temple of the Silver Pavilion, and Ryoan-ji, famous for its rock garden. The Hian Jingu is a Shinto shrine, built in 1895, celebrating the Imperial family and commemorating the first and last emperors to reside in Kyoto. There special sites have connections to the imperial family, the Kyoto Gyoen area including the Kyoto Imperial Palace and Sento Imperial Palace, homes of the Emperors of Japan for many centuries, Katsura Imperial Villa, one of the nation's finest architectural treasures, and Shugaku-in Imperial Villa, one of its best Japanese gardens.
The Historic Monuments of Ancient Kyoto are listed by the UNESCO as a World Heritage Site. These include the Kamo Shrines, Kyo-o-Gokokuji, Kyomizu-dera, Daigo-ji, Ninna-ji, Tenryu-ji, Rokuon-ji, Jisho-ji, Ryoan-ji, Hongan-ji, Kozan-ji and the Nijo Castle, primarily built by the Tokugawa shoguns.
Kyoto is renowned for its abundance of delicious Japanese foods and cuisine. The special circumstances of Kyoto as a city away from the sea and home to many Buddhist temples resulted in the development of a variety of vegetables peculiar to the Kyoto area called Kyo-yasai.
We would like to introduce the culture and real traditional products of Kyoto for you.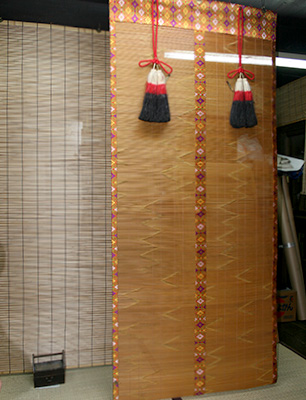 What is SUDARE
SUDARE is screens or blinds in Japan. They are sometimes called MISU as well. SUDARE were made of slats of decorative wood, bamboo, or other natural material woven together with simple string, colored yarn, or other decorative material to make nearly solid blinds. They could be either rolled or folded up out of the way.
SUDARE is used in many Japanese homes to shield the verandah and other openings of the building from sunlight, rain and insects. They are normally put up in spring and taken down again in autumn. The light structure allows breezes to pass through, a benefit in the hot Japanese summers. Since the building materials are easy to find, and can be made cheaply. Modern SUDARE are used for other usage like interior in the room in Japan now.
With the dawn of modernity, the production of SUDARE went into decline and became a traditional handicraft, but still are sold and shipped abroad by various companies from Japan.
Figure: Mr. Tadao Ibuki as a traditional craftsman
[Stickler for detail in products]
KYOTO SUDARE is fussed over the material in detail as same as famous KYOTO Dinner. An appearance of SUDARE should be a beautiful but expensive than other SUDARE. Hence we must satisfy the users how we can achieve our articles to customer's satisfaction.
[History of SUDARE]
Long time ago in Japan, at the age we don't have electric fans or air conditioners, the seeking cool air was only way everybody enjoys the coolness. SUDARE blocks off the light in the house but having airy room atmosphere like well ventilated rooms. People used to water the road or garden in front of their house by dipping water from a barrel, and then they felt the cooling air from it. SUDARE was the best wisdom of Japanese predecessors living in hottest area like Kyoto Japan.
[Specification of SUDARE]
We make HIGO (a thin strip of bamboo) first and lace-up this HIGO, and then all edge finishing with another clothes after fitting metals and tassels to SUDARE.
SUDARE used to be called MISU before, and MISU used to be composed HAIKU by OOKIMI NUKADA famous HAIKU composer which was Japanese poem consisting of seventeen syllables. Also famous woman writer SEI SHONAGON in HEIAN period (year of around 1000) wrote her essay MAKURA NO SOUSHI about MISU at this period already. Then MISU was changed from SU in Nara period.
MISU and SU were used for the purpose to separate the space in the room, like Emperor or noble personage and ordinary people. So for the ordinary people, MISU and SU were banned to use until 1860's in Japan. Since then, MISU was changed its name to ZASHIKI SUDARE, means Japanese style room separator, and spread into ordinary people at that time.
MISU is different name of SUDARE and used at shrines or Buddhist temples.
In general, the depth of MISU is approximately 2,730mm and its length is limitless.
OZASHIKI SUDARE is approximately 960mm in depth and its length is limitless too.
We accept your special order for length and design. Please inform us your demand !!
Career
1936 : born in Kyoto Japan
1958 : succeed to this father's business as second generation as
IBUKI SUDARE manufacture
from 1997 to 2004 : worked for Kyoto SUDARE Association as a chairman
2000 : Selected as the best master of traditional craftsman in Kyoto
Images of his works
Introduction of his crafts
Our products can be seen at THE TALE OF GENJI Museum in Kyoto.
Page Top